Mick Mars, Nikki Sixx, Vince Neil at Crue Fest, Boston, 08.22.08
Photo: Kathy G
I've been meaning to post about
Crue Fest
last Friday. J and I went and I had been excited since we got the tickets months ago. It was the last concert of the summer for us and it couldn't have been a better time.
Most of this blog will be a picture review of the show, but I did want to write about a few events of the night.
The concert started fairly early as the Comcast Center has a "curfew" time of 11pm. We missed Trapt (who I didn't really care to see anyway), and part of Sixx:AM's set, which was not planned. Sixx:AM is Nikki Sixx's side project that he created for his book, The Heroin Diaries (see previous blogs for review of the book!). Nikki has very unique ideas around music, bands and the industry and creating a soundtrack for a book is pretty unique and an interesting spin bringing literature and music together.
There was no plan to tour with Sixx:AM, but due to the creation of Crue Fest and a top 100 single on rock radio, he went ahead and brought the band on tour. I do have to say I was very surprised with the feedback of the crowd as no one had really seen this band other than on videos.
James Michael
, the producer and lead singer, has a great voice and did amazing work on the songs that were released. He's not that bad to look at either, so that helps with the fans. :)
I found their set engaging and fun. Nikki was really more in the background (he plays bass in the band as well), which allowed the other musicians to really shine. It was cool to watch.
After the set, James Michael came out for an impromptu meet and greet. Although I hadn't seen him before, I'm always up to meeting artists who put on a good set, so J and I ran out to see him during the Papa Roach set (which was another band I wasn't really into seeing anyway). There were probably a good 75 people around him taking pictures, having him sign autographs.
What I hadn't mentioned to this point is that I had written Nikki a letter in response to his book. There was a possible opportunity that I had to get him the letter the day before the show, but that didn't happen. I decided to print it out and bring it with me--worst case I could give it to one of the roadies.
When it hit me that James was the lead singer of Nikki's band, I was very excited. After a few tries, I finally got the letter in James' hand and asked him to give it to Nikki. I have no idea if it made it to him, but either way, I tried. :) After that, he was still taking pics so J got a great one of us right before he headed backstage.
James Michael of Sixx:AM, Crue Fest, Boston, 08.22.08
Photo: Kathy G
After the paparazzi craziness and mini-miracle of the passing of the letter, J and I headed to our seats to watch (and I made fun of) Papa Roach. I'm not a fan of theirs at all, but I do have to say that the band was tight and the lead singer was a showman. I just thought he was trying a bit to hard to be "rocker guy" instead of focusing on who he really was, but I was making J laugh at a few things I will keep between us and it was turning out to be a really fun night.
Crazy B*#ch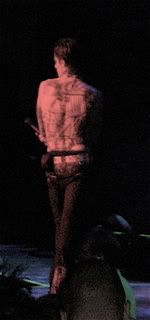 Josh Todd from Buckcherry and his mega-tatooed back
Photo: Kathy G
I hadn't seen Buckcherry live and was pumped to see them. I knew it would be somewhat raunchy as most, if not all of their songs, are about sex, drugs and women. I was right and it was a blast! "Crazy Bitch," their mega-hit, was over the top! They extended it with a medley of guitar solos, Billy Squier and Prince! Here's the video. Keep in mind this is borderline rated X, but it's insane!

The Boys Are Back in Town
It's hard to really explain a Motley show unless you have gone to one. From their start in the early 80s, they wanted to be as over the top and decadent as humanly possible and every time we see them, they up themselves. J and I were laughing so hard due to all the pyro they used. When you least expected it another "BAM" or sparklers would go flying. It was such a sight to see and so much fun! I will use this example of "Wild Side" from Crue Fest to show you what I mean:
Bottom line is we had a blast. I actually got decent pics from where we were sitting, which honestly was another miracle because we were angled on the side. Here are a few to share.. enjoy!
Nikki washed in white
Mick in the shadows
"Vince" my art shot :)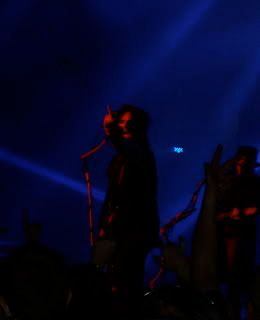 Nikki flipping us off during "MF of the Year"
Mick washed with yellow
All in all a great summer of concerts and I can't think of a better show to end it with. Thank you, boys!